Secrets of the EMI Archive – 3
Nipper and His Master's Voice – a little history
By David Hughes MBE – Trustee of EMI Archive Trust.
Dear old Nipper! His importance and significance to the music business has inevitably faded in recent years but his was the face that launched a million records. Not only that, the name of the painting gave birth to the most prestigious trademark label in the history of recorded music. So, after featuring him running amok as our first secret, let's return to him, his master, and the man who made him famous.
Of course, as with so many magic moments, "His Master's Voice" came about by pure chance. Artist Francis Barraud had inherited Nipper the dog when his original owner, brother Mark Barraud, died destitute in Bristol. Francis took the dog to Liverpool where it became very intrigued by his master's phonograph, the Thomas Edison invented precursor of the flat gramophone record and the original player of pre-recorded sound, both on purchased music cylinders, and individual dictaphone material, which presumably was what Barraud was using it for. The dog's ears pricked upon hearing "his master's voice" and the idea for the painting was born, though it was not until three years after Nipper, who'd by then returned to Kingston-on-Thames to live with Mark Barraud's widow, died in September 1895, that Francis completed the work. Rather boringly, he originally registered the painting as "Dog looking at and listening to a phonograph." Very catchy!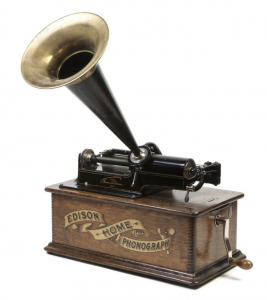 Having renamed it "His Master's Voice" Barraud tried and failed to have it exhibited at the annual Royal Academy exhibition in London Piccadilly, and was similarly rejected by all magazines he approached in hope they might use it as an illustration.
Barraud, however, remained undaunted, and his next port of call was to the offices of the Edison Bell Company who allegedly told him 'dogs don't listen to phonographs'. Whomever he saw did however suggest he repaint the black horn as gold, so, in the summer of 1899, off Francis went to Maiden Lane in London's Covent Garden, where the newly formed Gramophone Company had opened their office. Taking a photograph of the painting with him, he asked if he could borrow a brass horn.
"The manager, Mr Barry Owen, asked me if the picture was for sale and if I could introduce a machine of their own make, a gramophone, instead of the one in the picture", Barraud says in an article he later contributed to Strand Magazine."I replied that the picture was for sale and that I could make the alteration if they would let me have an instrument to paint from."
In September 1899, The Gramophone Company made Francis Barraud a formal offer – £50 for the actual painting and a further £50 for the copyright, and when the Company saw the amended painting a formal deal was concluded.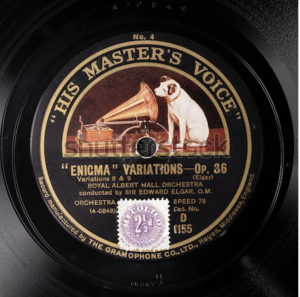 EMI (as The Gramophone Company was known following its merger with its great rival The Columbia Graphophone Company in 1931) has always carried the accusation of being a follower rather than a leader, and even after the purchase of the painting there was considerable caution. Although the image began to feature in advertising, it was another ten years before it was registered as a trademark. Francis Barraud, on the other hand, spent much of the rest of his life painting copies of his original painting, presumably for more than £50 each. How gratifying that was for him is not known! After his death is 1924, other artists were commissioned – these paintings being sent to The Company's offices around the world. It has to be said that some of these were rubbish enough to have Francis turning in his grave!
The original painting can readily be spotted. If viewed close-up from the right angle, the outline of the original Graphophone can be seen under the overpaint.
Which leads to one more strange and quirky fact, reasons for which are unknown – to me at any rate. It concerns what has become known as The Chinese Copy of "His Master's Voice". Currently on a wall in Universal's Music's Los Angeles headquarters, it replicates the original, including the overpaint.
We'll doubtless return to Nipper in future postings – he is after all a canine icon!
My thanks to Erik Ostergaard, who was the source of some of the information for this piece. There are many other stories concerning Nipper, and if you have one, or more importantly if you disagree with anything is this light-hearted overview, do let us know. These pieces are designed for entertainment as much as information and won't be buried in detail!!
Main Picture – 'His Master's Voice' painted by Francis Barraud part of the EMI Archive Trust  collection