Rock royalty unveils commemorative plaque marking the site of Europe's first recording studio
Featured photo LONDON, ENGLAND – DECEMBER 04: Roger Taylor unveils Westminster Council's commemorative plaque on December 04, 2019 in London, England. (Photo by Dave J Hogan for Universal Music)
LONDON: December 4, 2019 — Britain's rich music heritage was celebrated yesterday with the unveiling of a commemorative plaque on the site of Europe's first recording studio.
Queen drummer Roger Taylor pulled the cord on the plaque in London's Covent Garden. The studio ­was opened on Maiden Lane, behind the Strand, in 1898 by audio pioneer Fred Gaisberg and The Gramophone Company, a precursor to EMI. Just 33 years later the company opened the world-famous Abbey Road Studios, thanks largely to Gaisberg's drive and determination.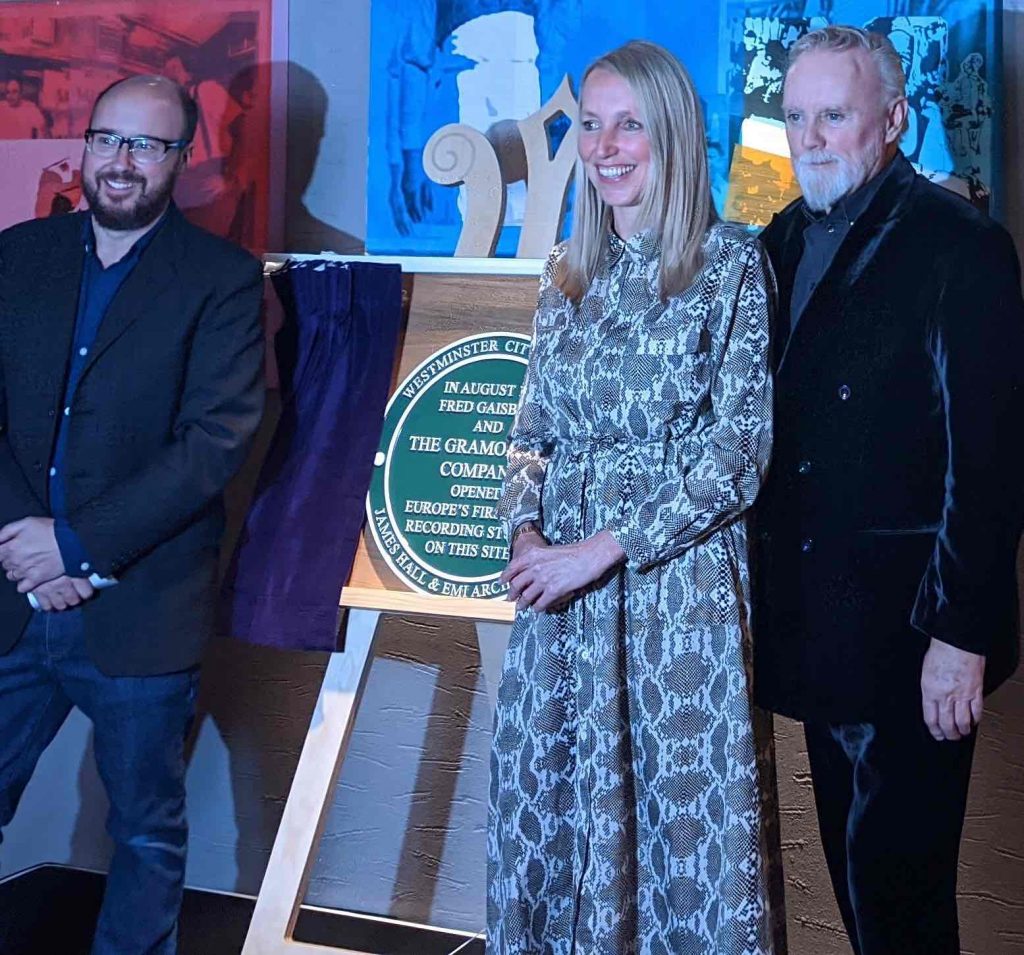 The campaign to have the Westminster City Council Green Plaque erected was led by music journalist and author James Hall, supported by the EMI Archive Trust, leading music and technology archive. James chanced upon the building when researching his novel about the early days of recorded sound, The Industry of Human Happiness. He was surprised to see no mention of the building's illustrious past anywhere inside or outside it. It is currently a buzzing pizza restaurant called Fire & Stone.
"We take recorded music for granted today, but until the late nineteenth century music only lasted for as long as the notes hung in the air. This building changed all that. The music industry outside America went from nothing to The Beatles and The Rolling Stones in 60-odd years, and it all started with Fred Gaisberg and Maiden Lane. Fred was a visionary, eccentric genius. I'm thrilled the building has finally been recognised with a plaque, and to have Roger unveil it was the icing on the cake," said James.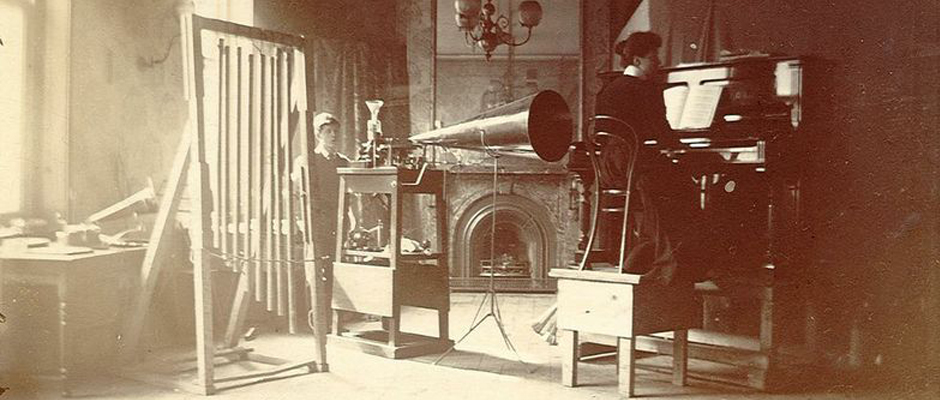 Caryn Tomlinson, Chair, EMI Archive Trust added: "The pioneering work of Fred Gaisberg and The Gramophone Company expanded the emerging music industry rapidly across the globe. He was part creative, part scientist, part explorer, skills he traversed with ease. His personality and expertise still shine through in his beautifully preserved diaries, held by the Trust. Seeing London's first recording studio acknowledged with this plaque and by Roger's presence, reminds us of how today's inventive musicians, producers and engineers continue to capture our imaginations."
As well as recording music hall singers and opera stars in London, Gaisberg lugged crates of dangerous equipment around the world to 'capture sound' far afield. Between 1900 and 1910, The Gramophone Company made over 14,000 field recordings in countries including India, Japan and Turkey. He recorded the last castrato in Rome before the Pope banned the practice, and narrowly missed out on recording Tsar Nicholas II. In 1902 The Gramophone Company moved from Maiden Lane to larger premises on City Road.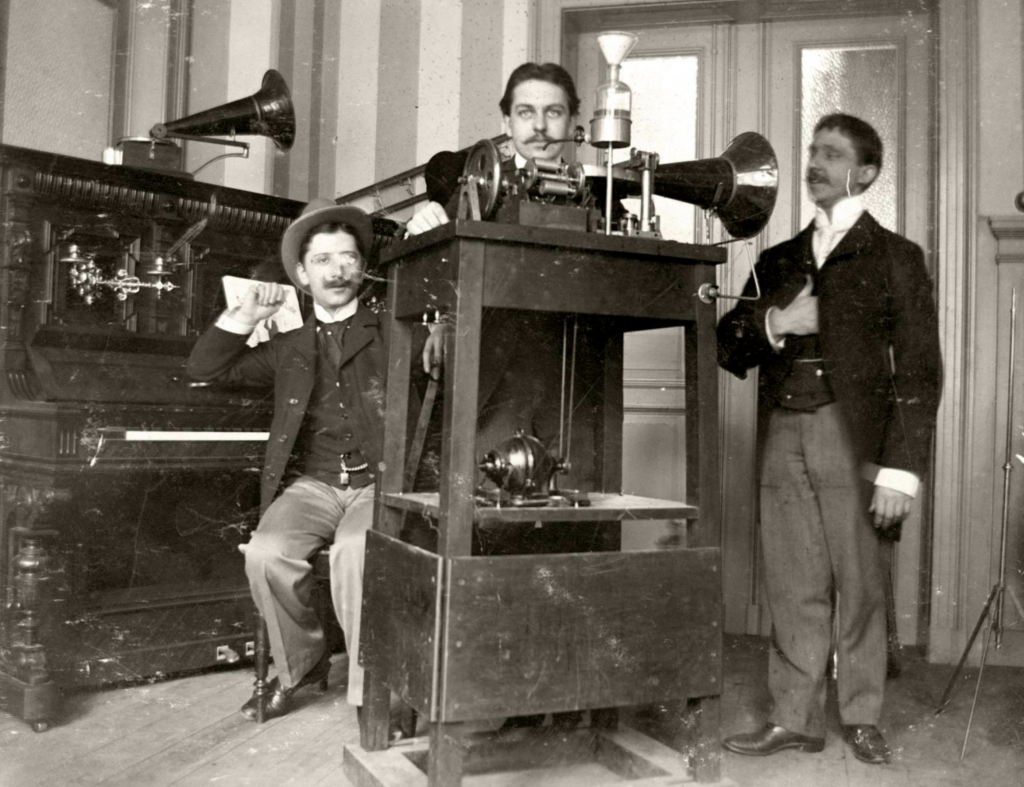 Geoff Taylor, Chief Executive of the BPI and the BRIT Awards, said: "The studio is the beating heart of the music business ­– the crucible where albums and songs are forged, and the artist's creative vision comes to life. So, we are delighted that this landmark site of Britain's first ever recording studio is being celebrated with a plaque that will remind the public of the enduring contribution that studios and artists make to our culture."
The Westminster City Council Green Plaque scheme launched in 1991 to commemorate the diverse cultural heritage of Westminster and highlight buildings associated with people of renown who have made lasting contributions to society. Cllr James Spencer, Westminster City Council's deputy Cabinet Member for Sports, Culture and Community, said: "Today British recording artists are globally famous, but the industry can trace its origins back to very humble beginnings when The Gramophone Company opened a recording studio in Westminster's Maiden Lane to record opera singers and music hall artists for the first time."
"This Westminster Green Plaque recognises a unique piece of music history and what could be a more fitting celebration than for it to be unveiled by Roger Taylor, a member of rock royalty."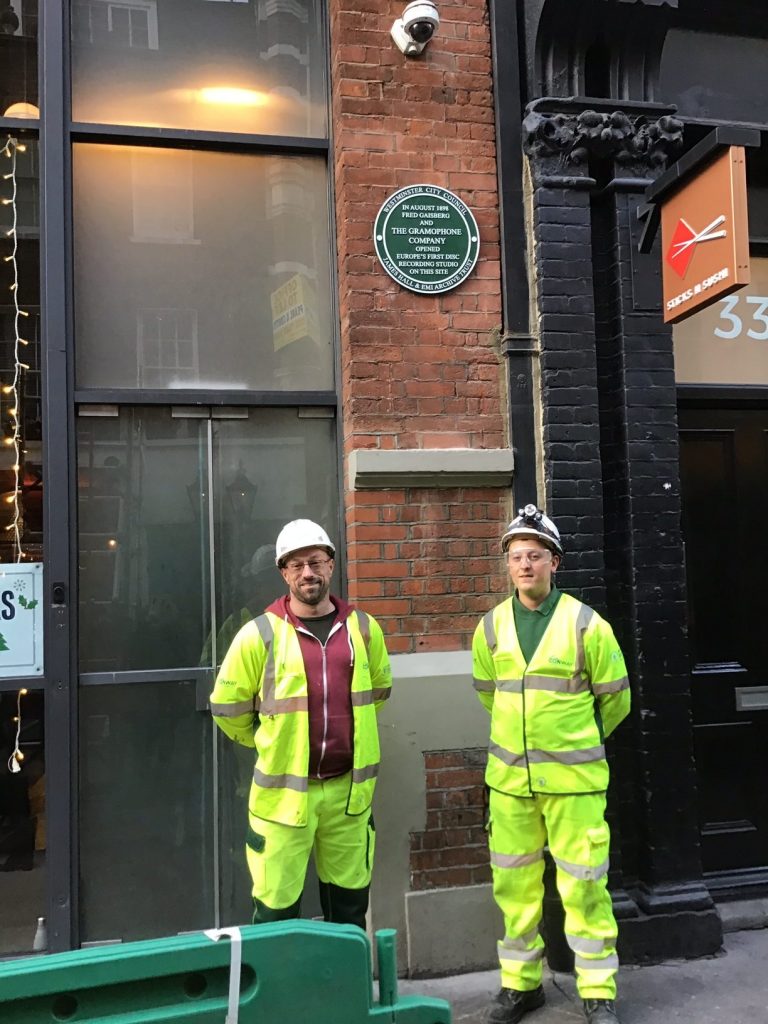 Other rock related Green Plaques include 52-55 Carnaby Street where impresario Don Arden and the Small Faces worked in 1965-67, and 67 Brook Street where Bee Gees, Barry, Robin and Maurice Gibb, composed and stayed from 1968-1980. There is also one on Abbey Studio which was opened by Sir Edward Elgar in November 1931, who also recorded there. Over 120 Green Plaques have been unveiled to date.
The launch event included an exhibition of historic gramophones and phonographs courtesy of members of the City of London Phonograph and Gramophone Society (CLPGS), and a talk by world-renowned gramophone expert Peter Adamson. The event also saw the unveiling of a bespoke art installation by BAFTA-winning animator Jim Le Fevre, inventor of the phonotrope. His 'Gaisberg Phonotrope' mixes centuries-old zoetrope turntable animation with contemporary techniques.