New Gramophone Company digital discography goes live
Event in London honours the work of the late Dr Alan Kelly in making freely available to all the most complete catalogue ever of The Gramophone Company
If you are a devotee of the world of discography, Dr Alan Kelly needs no introduction. If you are not, all you need to know is that he was a giant in the field, who spent decades meticulously researching all the many and varied releases of EMI's forerunner The Gramophone Company.
Dr Kelly sadly passed away in 2015 but before he died he kindly agreed to let the EMI Archive Trust become the custodian of the database that was being created from his work by friends and colleagues of his, in particular Stephen Clarke and Roger Tessier who published the first version of the 'Kelly Database' in 2019.
In September many of these friends and colleagues together with friends and associates of the EMI Archive Trust and Universal Music Group gathered together in London to mark the public launch of the most extensive and detailed catalogue ever of the Gramophone Company's legacy of era-defining recordings from all around the world – 'The Gramophone Company Discography'.
The guest of honour was Stephen Clarke who travelled to London from his home in Canada who gave a very informative and insightful talk on the project to those in attendance. His words really bring the work undertaken over the last few years to life and so we have reproduced an extract of them below.
The EMI Archive Trust is enormously grateful to all the people in addition to Dr Kelly, Stephen Clarke and Roger Tessier who have made this remarkable historical resource a reality: John Milmo for his continued support and supply of amended Kelly files, John Bolig for use of his HMV Celebrity Series Recordings and Historical Reissues 1924-1958, Peter Adamson, David Mason, Ward Marston, Jolyon Hudson and from Universal Music Group Corin Blaikie and Andy Davies from Universal Music Group.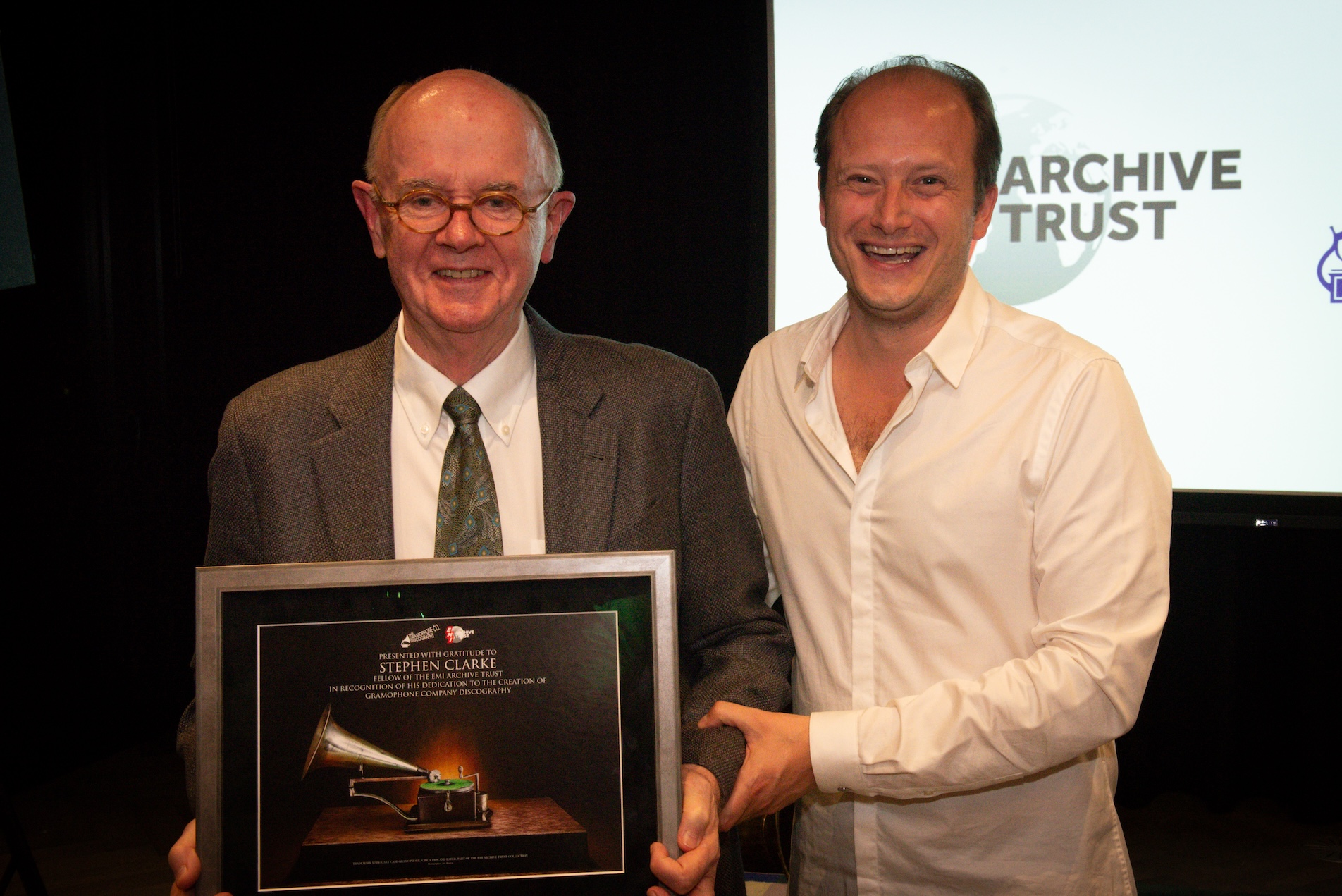 Above: Photos from the launch event in London. Clockwise from top right: Stephen Clarke and EMI Archive Trust chair Tom Williams; Members of The City of London Phonograph and Gramophone Society (CLPGS); Peter Cobbin and Kirsty Whalley trying out the new database (x2); John Downie from SABA, Danielle Johnson and Daniel Arieleno
Below: An extract from Stephen Clarke's talk at the event
Almost four years ago, I was here demonstrating the first version of this database. The database now contains the details of over 450,000 recordings, the output of the Gramophone Company and its successors including HMV and EMI during the 78 rpm era. The first entries are in 1898, the year that Fred Gaisberg opened the first Gramophone Co. recording studio in Maiden Lane, and the last entries are in 1997, when Roberto Alagna accompanied by Sir Antonio Pappano recorded two tenor arias on vinyl 78 rpm discs for the 100th anniversary of the Gramophone Company.
The database has been open to the public for four years now and the user base is located all over the world and is very keen. I hear very quickly by email if the database is down for even an hour or so. Users sometimes are just checking their own collections against the information in the database and sometimes are serious researchers at far-flung universities, including surprisingly a recent enquiry from a researcher in Belgrade who was researching Songs of the Hebrides sung in Gaelic.
Since I was last here, Roger Tessier and I added details of the records issued in the Celebrity Series catalogue, which was a joint catalogue of HMV and RCA Victor. Where Kelly had already entered the recording, we tried to avoid entering a duplicate record. The complete Celebrity Series Catalogue, the work of John Bolig and John Milmo, is available for download on the Discography of American Historical Recordings maintained by the University of California at Santa Barbara and there is a link to it in the Resources section of this website.
We stopped adding amended versions of files a couple of years ago in order to ensure that when we went live today the actual data in the database remained the same as the data that we had sent to Corin Blaikie, who was developing the version of the database that you can see today. I have kept a list of all the changes that I have been told about since then, either directly by John Milmo or by users of the database and confirmed with John. A couple of hundred items will now have to be entered individually into the database using an amending tool designed by Corin.
In addition, Roger Tessier, who had figured out how to divide Kelly's text files into searchable fields, was finding that the newly amended documents were causing him to write ever more code for the parsing tool. Having written thousand items of code, he was frankly tiring of the effort, and he was unpaid, as I was. He had solved the basic puzzle and was not a discographer by interest or inclination. We always knew that the database would eventually have to leave Kelly's documents behind and have a life of its own. What we didn't know was that, because of the pandemic, it would take us three years to get to the point we are now at, rather than a few months.
Now there is no longer a Boolean search tool, which was called 'Advanced Search' before. No-one was using it. What was formerly the Basic Search is now called the Advanced Search and searching now relies on Flexible Searching. The site is now quite a bit faster and the source of the data is identified differently. There is a 'Suggest Edit' feature in the search results which is still under development.
When using Flexible Searching one should type exactly what you are looking forward and see what the system produces. Flexible Searching isn't exactly Artificial Intelligence, and it also isn't like a Google search. Given all the press lately about Artificial Intelligence, I should note that I was initially reluctant to change to flexible searching, but to reassure you flexible searching does not generate data that is not actually in the database, and it only applies to the Performer and Title fields and not to any numeric fields. You might get a hit that isn't what you want, but the database is essentially a finding aid. If you want to get a printout of your search results you can still download a spreadsheet containing the results, from which you can delete any entries that were generated that you did not want. On the bright side, you may get entries that you would have wanted, had you known they were there.